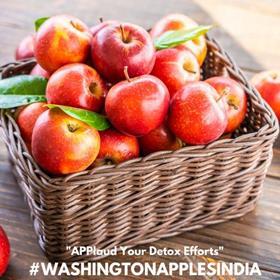 The Washington Apple Commission in India has reported resounding success for its latest social media campaign; #WashingtonApplesDigitalDetox.
The campaign encourages consumers to switch from digital apps to 'APP'les for one hour of the evening, every evening.
The hashtag reportedly reached the number four trending item on twitter in India, with consumers and influencers alike sharing their enjoyment of a Washington apple.
Sumit Saran, director of SS Associates, commented: "The digital detox campaign with Washington Apples that we ran in India on social media received an immediate connect with consumers.
'Increased screen time has become a major concern for all of us especially during the pandemic and the restrictions that came with it,' Saran said.
'Children are the most vulnerable. We had 20 influencers from the world of entertainment, fitness and lifestyle encourage their followers to digitally detox at least for an hour every day with the message "For an hour every day the only "App" for you should be the Washington "App"le.'
Saran added consumers were reminded to digitally detox for mental health and have a Washington Apple for physical health.
'Each influencer nominated two of their friends to carry the message forward. This It also became an innovative way to keep Washington Apples in the eye of the consumers, while the supply difficulties for them persisted in India."