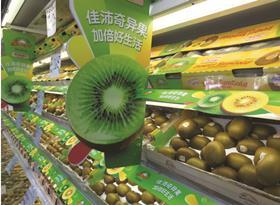 This season marks Zespri's 20th year in China, and the company said demand levels are at their highest yet.
Zespri chairman and kiwifruit grower, Bruce Cameron, said strong connections with government, consumers, customers and communities have been built and will continue to be as the firm works toward its NZ$4.5bn (US$2.98bn) in sales by 2025.
"Sales in the mainland China region will play a big part in that and are already growing strongly, with more than 27m trays of kiwifruit sold here last year, and we are forecast to see double digit growth. By 2025 we expect sales to double in China which would provide a quarter of all our sales globally," said Cameron.
Wellbeing at the forefront
He pointed toward a strong focus on health- and nutrition-focused projects the company has been pioneering.
"As well as sales we are also focused on doing more to improve lives in China. Chinese consumers buy our fruit because our fruit is healthy and nutritious and because they know Zespri is committed to China and that we are making a real contribution here," Cameron noted.
Zespri has undertaken a number of social projects aimed at creating jobs and supporting communities which Cameron said includes educating young people, providing fruit in schools and supporting efforts to improve the health of pregnant women and children in poorer communities.
Some of these projects are in support of the government-led Healthy China 2030 programme.
20 years of growth
When Zespri first launched, sales to mainland China contributed just under 2 per cent of Zespri's total global volume.
"Ten years ago, China accounted for just under 5 per cent of our global sales volume and generated $50m (US$33.1m) in revenue," Cameron noted.
"Last year, China accounted for just over 20 per cent of our total global sales volume and generated $500m (US$331m) in revenue, meaning China has now surpassed Japan to be Zespri's largest market. Where we once had no staff here we now have more than 60 and growing and we're one of the largest fruit brands in China and leaders in the fruit industry."