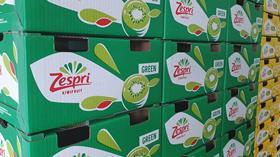 A small sample of Zespri kiwifruit at a Chinese wholesale market has tested positive to Covid-19 eliciting a rapid response from the marketer.
The positive detection was a result of routine fruit testing at the wholesale market and further tests on related fruit have come back negative.
Chief executive Dan Mathieson said Zespri was quick to respond, launching its emergency management plan as soon as it was informed.
"Recentlywe learnedthatthe Market Supervision Authority and the Center for Disease Control(CDC)inYaohaiDistrictHefeiCityAnhui Province conducted routine Covid-19testingof fruitin the wholesale marketandasampleofourkiwifruittested positive.Test results for all fruit under investigationhas since come back negative," said Mathieson.
"Weare takingthis matter extremely seriously, immediately launching our emergency management plans andcooperatingwiththerelevant government agenciesto tracethe product shipment.
"The New Zealand kiwifruit industryadheres to the highestindustry safety standardsand to date there have been no reported cases ofCovid-19inorchardsor packhouses."
Mathieson said Zespri had followed strict safety protocols in New Zealand and China and had been able to trace the fruit back to where it was packed.
"The affected fruit from the Bay of Plenty was packed in May before being shipped from Tauranga on 16 August. There remains no reported community transmission in the region. The fruit was tested for Covid-19 upon arrival in China by China Customs and Zespri, as well as being disinfected, as per standard China Customs protocols," said Mathieson.
'Since the beginning of the coronavirus epidemic, we have worked strictly in accordance with the requirements of the relevant national regulatory authorities and have cooperated withall theepidemic prevention and eradication work programmes for imported fruitandmarketdistribution, to ensure thatonlythe freshest,safest, high-quality Zespri kiwifruitreaches ourconsumers."