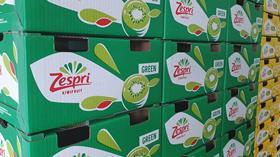 Zespri has responded to reports of a past dispute with Kiwifruit New Zealand (KNZ) by reiterating its commitment to working with the regulator on the issue of unauthorised plantings in China.
The marketer's proposal for a commercial trial of Gold3 (G3 marketed as SunGold) kiwifruit in China was submitted to KNZ towards the end of 2020. At the end of January 2021, the KNZ provided its response, prompting Zespri to further refine the proposal before re-submitting.
According to a report from Stuff NZ, Kristy McDonald, chairwoman ​of KNZ, wrote a letter to Zespri chairman Bruce Cameron and the Zespri board outlining a phone call between the two in November 2020.
In the letter McDonald said Cameron had tried to "browbeat and intimidate me and KNZ into rubber-stamping Zespri's proposed activity without undertaking any proper assessment of it".
"What unfolded in your call to me was a series of threats, demands and accusations. I will say little more about your outburst as I suspect it was a reflection of poorly controlled emotion," McDonald wrote, according to the report.
"KNZ has not even considered the proposed activity yet you are most certainly getting well ahead of yourself in trying to control the outcome of a process that is not yours to control and has not even started."
In an update to the industry, Cameron rejected "the way the conversation has been characterised but acknowledge the concerns raised by the chair of KNZ. Zespri respects the critical role the regulator KNZ plays in the industry".
Cameron said Zespri needed to have an effective working relationship with KNZ and although this situation reflected the need for further work on the relationship, Zespri was committed to doing do.
"We will continue to work hard to build an effective relationship with KNZ in the best interests of the New Zealand industry," Cameron said.
"This will include continuing to seek clarity on KNZ's requirements of Zespri and to ensure we fulfil our regulatory obligations while remaining focused on the critical issues facing the industry today."
Geoff Morgan, chief executive of KNZ, said the letter had made the regulator's position clear but KNZ had also turned its focus to the future.
"KNZ and Zespri work very closely together and meet and correspond on a very regular basis so there has been discussion in the past on the letter, but we are now looking forward," said Morgan.
"KNZ and Zespri are both committed to having a good working relationship, and we are increasing our communications and sharing of information to assist that process."