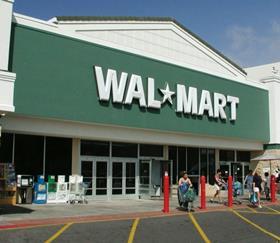 Retail group Walmart Stores Inc. has announced that net profit for the second quarter ended 31 July 2008 increased by 17 per cent to US$3.45bn, with net sales up 10 per cent to US$101.6bn.
In the results, the group revealed that earnings reach US$3.45bn, or 87 cents per share, during the quarter, up from US$2.95bn, or 72 cents per share, in 2007.
'The combination of solid operating performance and improved capital efficiency gave us record earnings this quarter and nearly US$5bn in free cash flow in the first half of the fiscal year,' said group president and CEO Lee Scott. 'Our underlying business remains sound as our associates deliver on Walmart's mission to save people money so they can live better.'
Same store sales growth excluding fuel increased by 4.5 per cent, compared with a 1.9 per cent rise in the second quarter of 2007.Income from continuing operations was US$3.385bn, an increase of 9.3 per cent from US$3.10bn last year.
'While inflation and higher fuel costs are pressuring suppliers, retailers and customers worldwide, we're confident that Walmart is well positioned for this economy,' Mr Scott added.