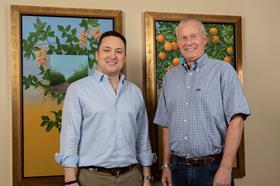 America's largest integrated grower, shipper, and packer of fresh citrus, Wonderful Citrus, has announced a substantial change in its company structure.
David Krause will vacate his role as president at the end of the year and move into a newly created position as advisor to chairman and president of The Wonderful Co., Stewart Resnick.
Replacing Krause is chief sales officer, Zak Laffite, who will officially begin on January 1, 2020.
Wonderful Citrus is part of the Los Angeles-based The Wonderful Co., which owns, cultivates and harvests fresh citrus from 25,000ha and has brands including Halos mandarins, Wonderful Seedles lemons and Sweet Scarletts red grapefruit from Texas.
Resnick said Laffite's appointment represented an exciting new chapter for Wonderful Citrus.
"Zak approaches this role with a deep understanding of our business, and a unique talent for working cross-functionally with our employees, retailers, and grower partners," said Resnick.
"David will be missed by the entire Wonderful Citrus family, but I'm thrilled he has agreed to remain on in an advisory capacity and I look forward to Zak leading our business well into the future,' he added.