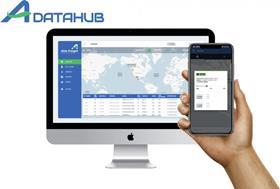 Los Angeles-based perishables logistics specialist Able Freight Services has developed a mobile version of its web-based DataHub customer portal, which allows customers to manage their entire supply chain with all their partners through one digital portal.
DataHub is an end-to-end visibility dashboard providing real-time information of all shipments and status alerts, temperature and humidity readings, and all documents related to a customer's shipment, including airway bills, bills of lading, invoices, quality checks and proof of delivery.
By analysing these different metrics, commodity-based shelf-life predictions for shipments can be made to help customers control, plan and deliver products in optimum condition.
"DataHub is designed to streamline digital processes and increase transparency by automating and simplifying the different stages involved in shipping perishable cargoes," explains Able Freight's sales and marketing director Xavier Ripoll. "As well as making communications more efficient it is a powerful data analytics tool, enabling better informed and more proactive decision-making."
Following successful trials with Driscoll's and Costco, Able Freight launched the DataHub app at October's PMA Fresh Summit in Anaheim. The company now hopes to leverage its reputation as a leading supplier of perishable logistics solutions in order to make DataHub the standard portal for the global produce industry.
DataHub is one of a suite of innovative proprietary solutions developed by Able Freight's technology and innovation department that harnesses the power of blockchain technology to allow perishables to be transported in a more seamless and transparent manner and ultimately deliver significant improvements in shelf-life.
Able Freight has been providing transport and logistics solutions to the perishables industry for more than 26 years, and prides itself on its specialist knowledge and high levels of customer service. "We are the largest independent perishables freight forwarder in the market. We only ship perishables and this has allowed us to develop a high degree of expertise," says Ripoll. "Of the 90,000 tonnes of fresh produce we moved last year, 99.904 per cent was claims free."