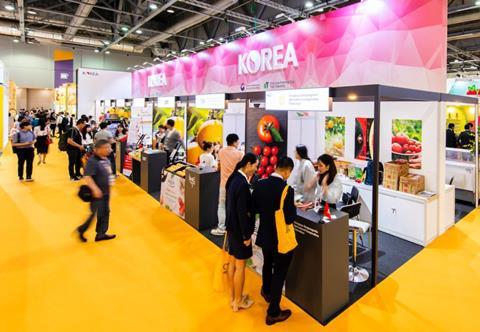 Fruitnet concludes its series of exhibitor spotlights from Asia Fruit Logistica with a look at Asia. During the trade show, the Fruitnet team spoke to some of the region's leading players about key developments and future prospects.
Kalya Exports (India)
Indian exporter Kalya Exports has received a positive response to its new Asian brand Red Tiger in its first season. Export manager, Sagar Deore, said the company, which exports a range of fresh produce but has a focus on table grapes, tailored the branding to Asian consumers, particularly in China, and it already seems to be having the desired effect. "This was our first season using the branding and we have had a few good responses; people are getting attracted to the logo," he said.
SL Agrifood Corporation (Philippines)
Increasing demand from the Chinese market has SL Agrifood Corporation looking to triple its banana production in the coming years. The Philippines-based exporter only started producing bananas four years ago and currently has 300ha of plantations, according to export manager Jennifer V Palmera, who said demand is far outstripping what the company can supply. "We hope to have a total of 1,000ha of plantations reach production next year. We currently ship 20 containers a month, but we've had buyers from China ask about shipping more than 100 containers a month," she said.
Korea Agro-Fisheries & Food Trade Corporation (Korea)
Korea Agro-Fisheries & Food Trade Corporation, the government agency responsible for promoting Korean agricultural products, said exporters at the Korea pavilion were able to reach a number of agreements at Asia Fruit Logistica 2019. Kim Seoyeon, assistant manager in the produce trade department, said the country's grapes and pears attracted the most attention at this year's show. She said the corporation had received feedback from exhibitors that a number of agreements had been made with major buyers from countries including China and Malaysia.
Ocean Network Express (Singapore)
As it prepared to meet with the world's fresh produce industry at Asia Fruit Logistica 2019, shipping company Ocean Network Express (ONE) announced it would be expanding its current refrigerated container fleet of 240,000 TEUs. ONE will be adding another 6,000 (40ft HC) units, including 500 units equipped with advanced controlled atmosphere technology, which slows down the respiration and ripening process to maximise the shelf life of fruits and vegetables. These reefer containers will be made available for accepting new bookings towards end of the year to meet reefer peak season demand around the world.
Top Fruits (Malaysia)
Malaysian exporter Top Fruits hopes the early success of its whole frozen durian exports to China will be a sign of things to come. A new protocol, announced in June, allowed the export of whole frozen durian from Malaysia to China. Tan Sue Yee, director of Top Fruits, said the company has already sent 2,400 tonnes in three months. However, Sue Yee said a protocol for the export of fresh durian to China would provide even more opportunity and he believes an agreement will be reached sooner rather than later.