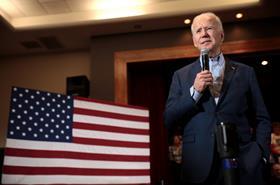 Africa's fresh produce export sector is emerging from the rather tiring US election campaign with hope that the continent may get more attention from the authorities in Washington.
While the African continent will continue to benefit from AGOA, the African Growth and Opportunities Act signed in the last year of the Obama Presidency, it was hoped that during the past four years the Trump administration would act on engagements in terms of better market access.
This has not materialised as counter trade issues have soured progress for entry into the US for African products.
A case in point is the fact that the proposed new deal for South African citrus imports into the US has been sitting on the desk of the secretary of agriculture for more than two years without signature.
This deal would open up exports to growers outside the Western and Northern Cape who are presently not allowed to ship to the US.
"One must expect that it will take some time for the new administration to take up its responsibilities," said Deon Joubert, the Citrus Growers Association special envoy on trade issues with the US.
Joubert agreed with other political commentators who have said the new Biden administration would perhaps be more prepared to engage with Africa and this would be beneficial to the continent's exporters.
Certain sectors of the South African citrus industry see better access to the US as essential to market the expected future volumes from what is a fast growing industry.
This year the citrus export crop turned just short of 150m cartons. This year's increase from around a projected export figure of around 143m cartons to around 150m cartons also came as something of a surprise.
Some observers have said that a lot of citrus planted over the past three years has not necessarily been taken into account in forecasting future growth.
It is now accepted that during the next five years exports could increase to above 160m cartons and even as high as 170m cartons.
Marketing these volumes is going to be a challenge and hence the focus of the South African industry on improving market access.
The South African lemon sector is seen as one of those which could derive great benefit from better access to the US.
In general, it will take some time for the new administration in Washington to show its hand. While the South African citrus industry is reported to have had a bumper year, with positive exchange rates, strong markets and a large crop all combining to create a very profitable scenario, it is expected that the effect of Covid-19 will for some time disrupt the ability to travel and therefore to pursue market access progress in person.
"The US authorities have their own problems and one must understand that this would be their first priority," one observer noted.