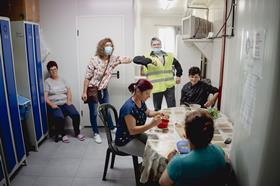 Catalan fruit association Afrucat announced last week that the first group of Romanian field workers have arrived for the 2020 summer fruit campaign.
Regional producers faced a serious shortage of workers this season because of movement restrictions imposed to tackle coronavirus.
A group of 250 workers arrived in 10 coaches running at 50 per cent occupancy in compliance with distancing regulations, Afrucat said. They will be working in the municipalities of Soses Alcoletge, Albatàrrec and Fraga.
The association plans to bring in a total of 577 workers by the end of June. Each of them has an employment contract and will work as managers in fields and packhouses.
Due to the essential and urgent nature of their job, the workers will not be subjected to the 14-day quarantine period stipulated by the government.
However, their movements will be strictly limited, and they will only be able to leave their homes to shop for groceries or medicine or to work.