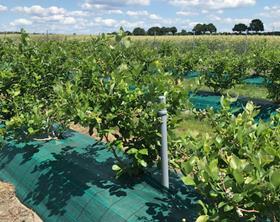 Agritech start up Agranimo has announced that it has received €2m from Nector Holdings, the agtech arm of HL Halls, to allow it to further develop its data analytics platform for the produce industry.
The technology uses farm climate, soil and leaf sampling data to forecast orchard yields and help optimise field management and logistics.
Agranimo, which has offices in Santiago and Berlin, said the investment would enable it to improve its analytics to better use on-farm data in the supply chain, and expand the suite of tools to address the needs of smaller farmers and larger corporate clients looking for streamlined plant-relevant soil and climate data analysis.
Announcing the investment, Agranimo said Nector's global presence in fruit production, sourcing, and made it the ideal partner.
"We are very happy to have Nector as an investor and partner for a variety of reasons. They are a team of great people with a similar set of values and vision of the industry," said CEO Nikita Gulin.
"We can access a lot of knowledge and expertise from HL Halls & Sons, which operates across all stages of production and distribution in the fresh produce value chain, thus helping us refine existing products as well as rapidly develop and trial new product ideas.
"We are thankful for the trust that our existing customers had in our abilities to bring useful tools to them and are looking forward to create even better value through existing and future products."
Richard Franklin, managing director of Nector Holdings, commented: "We are delighted to announce our investment in Agranimo. Over the last 12 months we have developed a strong partnership, one that is based on a shared vision for technology in the food value chain, as well as a common culture and set of principles.
"The Agranimo leadership team has built a dynamic, forward-thinking business that tackles some of the core challenges in agriculture today. We look forward to working together with Nikita and his team as we develop innovative digital solutions for the food industry."