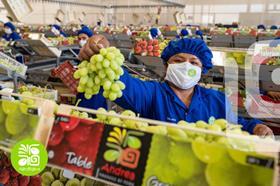 IFG has named Peru's Agrícola Andrea as the inaugural winner of its DW Cain Award for its exemplary work in supporting and promoting IFG's vision in the grape industry.
The prize is named after IFG founder and retired director of plant breeding, Dr David Cain, in honour of his years of dedication to breeding that have transformed the industry.
Chile's Exportadora Rio Blanco was named runner-up for its use of IFG trademarks and quality fruit production.
This year is the first in which the prize has been awarded and subsequently it will be awarded annually, each year having a different theme and recognition criteria.
IFG said the winner was selected from its licensees based on its "impressive quality, as well as its support and promotion of IFG's vision for the grape industry, in particular, its adoption and promotion of our logos and varietal trademarks is worthy of recognition and praise".
Andy Higgins, CEO of IFG, commented: "Even handling a massive scale of fruit, they have maintained an attention to quality and reputation that deserves recognition.
"Agricola Andrea has been a true partner with IFG in championing the use of our trademarks in the retail space and recently adopted the use of our logos on packaging. They have put literally millions of IFG-branded packs on the market, with more to come. Their commitment to our brand and quality standards goes beyond our expectations, and we are very excited to see what they do in the future."
Agricola Andrea has been an IFG licensee for eight years and is the breeder's largest authorised grower in Peru, producing 100 per cent IFG varieties.
"IFG is embedded in our heart and soul," said director of marketing and business strategy, Eduardo Mazzini. "It is a true privilege and we are honored to receive this award."
The company's owner, Jonathan Geller, added: "We are passionate about innovation in the industry and seek to truly lead by staying one step ahead as a key player and game changer in the industry".
"When I think of Dr David Cain, one word comes to mind: inspirational. For years he pursued his dream by investing time and energy to bring IFG to what it is today. He changed the whole industry."
Commenting of runner up Exportadora Rio Blanco, Higgins said: "The company has demonstrated a strong commitment to IFG brand standards by exclusively using IFG variety logos on its bags. Its dedication to producing the highest quality fruit while maintaining large plantations deserves recognition."
Rio Blanco's CEO Ricardo Koch said: "This award recognises the hard work of our growers and our team and encourages us to keep working harder to achieve the quality we strive for".
Dr David Cain said he was honoured that IFG had created the award on his behalf. He thanked all of the nominees for their hard work and commitment. The other nominees were P&N Natale (Australia) ; Labrunier (Brazil), Agricoper (Italy), Leon Viljoen (South Africa), Uvasdoce (Spain) and Vignolo Farms (US).