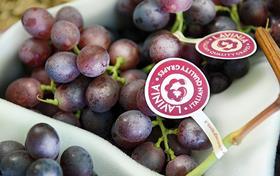 Ahead of Agricoper's 20th appearance at Fruit Logistica in Berlin next month, where it will promote a new premium table grape brand called Lavinia, the Italian exporter's marketing manager Domenico Liturri speaks to Eurofruit about innovation, consumers and expansion in emerging markets.
As an established table grape exporter with a number of markets to serve, where are you targeting investment when it comes to innovation?
Domenico Liturri: The main goal of our company is varietal renewal. Nowadays, we think it is necessary to test and introduce new varieties in order to keep playing a leading role in [what is] an increasingly competitive and more demanding market.
Offering the consumer the opportunity to try out new taste experiences is our mission and our daily challenge.
Innovation also involves creating new packaging solutions that fit in with new food trends and habits, as well as providing consumers with precise, clear and easy-to-understand information.
What major trends do you see in the fresh produce business and how do you expect these will evolve in the next 12 months?
DL:The major trend for the future will actually be a kind of return to the past, to a culture that promotes healthy and local food.
The big consumer trends that are going to affect the fresh produce industry are: health consciousness, food security and sustainability.
Consumers are paying more attention to what they eat and they are looking for more nutritious and healthy food.
Traceability is another important issue, because consumers really want to know exactly where their food comes from and how it is grown.
And sustainability has emerged as another major trend. In fact, consumers are actively seeking out companies and brands that adopt clean, recycled and reused packaging solutions.
In which markets are you targeting new sales?
DL:Our export campaign covers almost the whole world. We are currently focused on expanding our activities in the Middle East and some steps will be taken soon in this direction.
What are you doing to promote those new sales?
DL:Our promotional strategy includes participation at events and exhibitions, direct email, online communications and advertising campaigns in specialised magazines.
You'll be exhibiting at Fruit Logistica next month. What benefits does being present at such an event bring?
DL:In fact, we were one of the pioneers of Fruit Logistica; the first time we exhibited at the event was in 1996, so this year will be our twentieth edition.
Fruit Logistica remains the most important occasion to meet our customers and exchange ideas and views with experts in the sector; plus, it offers many sources of inspiration for developing and improving our business.