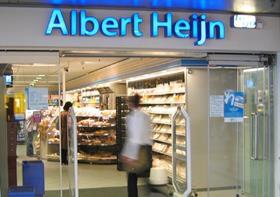 In the Netherlands, retail group Ahold has reported a drop in group sales of 0.8 per cent to €5.8bn for the second quarter (Q2) of the year, with operating income also falling by €39m to €235m during the period. Net income stood at €338m for Q2, boosted by the €162m divestment of Schuitema to CVC Capital Partners.
For the first half of the year, the group saw net sales decrease 1.1 per cent to €13.1bn, with operating income down €16m to €571m.
Ahold CEO John Rishton said: 'We continued to invest in price and gave increased focus to promotions, both of which helped drive sales and win customers but, as anticipated, impacted margins.'
The group's Albert Heijn chain of supermarkets saw net sales growth of 14.2 per cent to €2.1bn for the second quarter of the year, with year-on-year operating income up €8m to €138m as a result of lower pension charges.
'In Europe, as part of Albert Heijn's price positioning strategy, food price inflation was only partially passed on to customers during the quarter, and strong promotions including the Euro 2008 Football Championships temporarily impacted margins,' Mr Rishton said.
Elsewhere in Europe, Albert/Hypernova operations in the Czech Republic and Slovakia enjoyed a net sales increase of 20.2 per cent for the second quarter, to €411m.
'We are confident we will manage the balance between sales growth and margin and deliver our underlying retail operating margin guidance for 2008 of 4.8 per cent-5.3 per cent,' Mr Rishton noted.