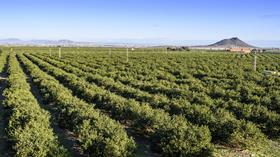 Spain's lemon sector has join the chorus of voices calling for supermarkets to help fruit and vegetable growers shoulder the burden of soaring production costs.
Ailimpo is leading demands for European retailers to raise prices to support the rise in production and transport costs.
"These are difficult times for the fruit and vegetable sector in general and the citrus sector in particular," the interprofessional said.
"In addition to the growth in European imports of citrus from outside the EU, especially Turkish lemons, there is now an increase in costs along the supply chain ­– from the tree to the delivery of the packed lemon to the supermarkets – due to various external events.
"Faced with this scenario, we demand a price increase from the European distribution chains as the only way to support the rise in production and transport costs. Otherwise, the consequence will be the loss of the economic sustainability of our activity."
Ailimpo said the unanimous message from growers, cooperatives and exporters of Spanish lemons that the cost overruns should be passed on to the final price is very clear.
"As has already happened in other food sectors and with other products, the Spanish lemon sector is clearly demanding retailers for an increase in prices as the only possible formula to support the rise in costs that affect both production in the orchards and the harvesting and packing of fruit in the warehouses: labour, electricity, water, inputs, fuel, etc," it said.
Ailimpo highlighted the significant investment the sector has made over the last few years to make production more sustainable by reducing its water footprint (to the lowest levels in the Spanish fruit industry) and maintain a forest of lemon trees which absorbs 360,550 tonnes of CO2 a year.
"In short, we insist on the need to make consumers aware of the benefits that Spanish lemons bring in terms of environmental and social sustainability, by becoming a sector that is very aware of and committed to the environment so that now, on the part of European distribution, the great effort made throughout this time is not sufficiently valued," it said.
With annual sales of more than €700m, Spain is the world's leading exporter of fresh lemons.