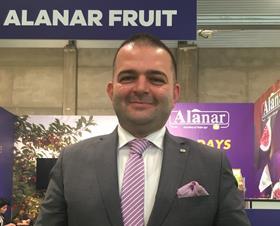 As the number of coronavirus cases rises sharply in Turkey, authorities have imposed stricter containment measures, but major Turkish fresh produce companies like Alanar have been bolstering their efforts ever since the first domestic case was confirmed on 10 March.
"Since the first case was announced here in Turkey, we have been taking serious precautions for different kinds of scenarios that may happen when the season starts," said marketing and sales manager Yiğit Gökyiğit. "Our main product is cherries, which start in mid-May, so we are working on preparations for the season at the moment. I think we have done well so far, in terms of taking quick action in this unusual situation."
According to Gökyiğit, all facilities, machines and equipment are being disinfected, as are office recreation areas, vehicles and production sites, while epoxy applications have been completed on cherry, pomegranate and apricot packing areas and warehouse corridors. Meanwhile, trainings on compliance with the Ministry of Health's 14-day rule have been held.
"The infection risk is lower outside in the orchards, but we are still taking precautions on hygiene and socially distancing at every stage," said Gökyiğit. "During meals and breaks, staff are restricted to groups of 3-4 people."
Agricultural activities in the gardens have been organised to use a minimum of workers, he explained. Disinfectants, masks and gloves have been supplied and are mandatory. At the start of every shift, the temperatures of the staff are checked with a contactless device and updated handwashing instructions have been made available in the orchards.
"The coronavirus measures determined by the Ministry of Health are being fully implemented in Alanar's orchards and the nursery operation units," said Gökyiğit. "Business meetings continue to take place with minimum attendance, in particular for the working units. Employees are transported to the orchards using half the carrying capacity of our vehicles. In departments where seasonal workers are employed, necessary controls are carried out at the entrance to the work areas. As of today, there are no quarantine or isolation cases among our employees and their families."
Since Turkey managed to keep the coronavirus out for so long, citizens have been aware of its seriousness since day one, having already witnessed its impact not only in China, but also in Italy. "Everybody is highly conscious, trying to remain isolated and following hygiene instructions as closely as possible," said Gökyiğit. "The coronavirus has made the whole world come together, which makes me hopeful, because I believe people can do anything when they cooperate and work for the good of everyone."
Unlike many producing nations, Turkey is expected to face no labour issues as a result of the pandemic, since pickers in the country tend to be Turkish.
"Agriculture is in the DNA of this country, so everyone, especially those living in agricultural regions, is experienced in the industry," said Gökyiğit. "We are the leading grower-packer-exporter of fruit in Turkey and a subsidiary of Tekfen Holding, one of the largest conglomerates in the country. Thanks to this strong corporate structure, I expect that we will be able to manage the crisis as well as possible until the spread of the virus is under control. We will keep in touch while keeping a safe distance. If we continue to think positively, the whole world can get through this."