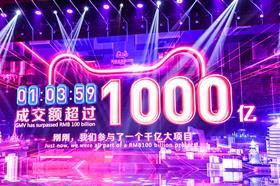 Chinese e-commerce giant Alibaba set a new record for sales on its 2019 11.11 Global Shopping Festival by generating US$38.4bn in 24 hours.
This was a 26 per cent increase on the 2018 singles' day sales total, a jump propelled by an explosive start, which saw US$1bn worth of sales settled in the first minute and eight seconds. The total had reached by US$12bn in the first hour.
The 11.11 shopping festival began in 2009 with participation from just 27 merchants as an event for merchants and consumers to raise awareness about the value of online shopping. More than 200,000 brands participated in this year's event.
These brands originate from across the world and in the first hour of the event the top five countries selling to China were Japan, United States, Korea, Australia and Germany.
Fresh produce is among the range of products contributing to the significant total of sales and more exporters are looking to promote their product as part of the day.
Leading up to the festival Tmall, Alibaba's online marketplace, announced it was opening a number of country flagship stores.
According to a Xinhua report, 10 countries, including Thailand, Russia, Mexico, Chile, Peru and Argentina, signed deals with Tmall at the second China International Import Expo in Shanghai.
Luis Schmidt, Chile's ambassador to China, told Xinhua, Tmall would provide a great platform for Chinese consumers to get to know Chile's cherries better.