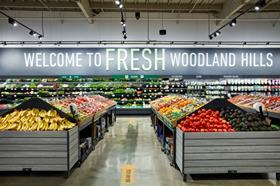 Amazon has opened its first Amazon Fresh grocery store in California, a format designed to connect in-store and online grocery shopping.
The inaugural store was opened at the end of August in the Los Angeles neighbourhood of Woodland Hills and plans are place for five more stores.
In a blog post, Jeff Helbling, vice-president of Amazon Fresh Stores said the store will feature a wide assortment of high-quality fresh produce and other groceries, plus it offers free same-day delivery for members of its Amazon Prime programme.
"We've also introduced new ways to make grocery shopping more convenient, including the Amazon Dash Cart, which enables customers to skip the checkout line, and new Alexa features to help customers manage their shopping lists and better navigate our aisles," Helbling said.
The new Amazon Dash Cart allows consumers to their bags in the cart, sign in to the Amazon app, shop, and exit through a priority lane to automatically complete their payment.
The cart also uses a combination of computer vision algorithms and sensor fusion to suggest items to consumers.
Amazon has also placed Amazon Echo Show devices throughout the store for consumers to interact with if they need help.
"Customers can find items in the store more quickly by using Alexa and Alexa shopping lists," explained Helbling.
"When customers arrive in store, they can access their Alexa shopping list through the Amazon app or on the Amazon Dash Cart, enabling them to quickly navigate aisles and check off items as they shop."
This development adds to Amazon's existing presence the brick-and-mortar grocery sector, in 2017 it acquired organic grocerWhole FoodsMarket which has stores in the US, Canada and the UK.