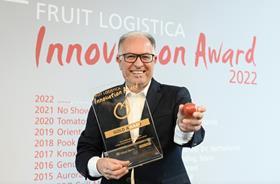 This year's Fruit Logistica Innovation Award (FLIA) was won by the Amela tomato from Granada La Palma in Spain.
Chosen by visitors to the trade fair, Amela reportedly garnered around two-thirds of the votes, thanks to its intense aroma, high Brix and nutrient and amino acid content.
'The know-how for growing this plant, which tastes almost as sweet as a fruit, comes from two cultures,' Fruit Logistica explained. 'The idea originally came from Japan in 1996, and the variety is currently being cultivated in southern Spain using traditional methods.'
Pedro Ruiz, president of Granada La Palma, said the award meant a lot to the company, not least due to the complicated situation for tomatoes worldwide.
'It is a great honour to receive such an important recognition at the most important trade show in the world,' he said. 'But it is not only about Amela. This prize will also bring recognition to the tomato as a whole, which always had a high value in Europe as a product which exists in every household.'
The silver FLIA was awarded to Israel's Tevel Advanced Technologies, whose flying autonomous robot is able to pinpoint individual berries from an optimum position and angle thanks to AI algorithms and computer vision.
'This ensures crops can be harvested precisely when they are ripe and minimises the number of workers needed,' Fruit Logistica stated.
The bronze award went to the winners of the 2020 competition, Syngenta Seeds, for the company's 'istem' cauliflower stalks, which can be eaten either raw or cooked.