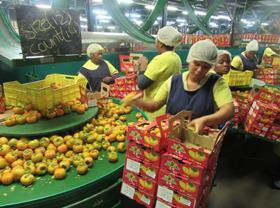 ANB Investments – a group with holdings in several South African agricultural companies – has acquired a 51 per cent stake in the Arisa Packhouse, at Buffeljagsrivier near Swellendam in the Southern Cape.

Arisa Packhouse was originally established by Israeli and South African interests at the start of the 2000s as the centralised facility for packing Sharon fruit in South Africa.
Over time it also started packing plums and increasing volumes of avocados produced in the Southern Cape.
The company said it planned to refurbish the facility and upgrade it technologically, with the 9,500m2 facility able to handle additional products including soft citrus and lemons in future.

ANB Investments also owns the global ClemenGold mandarin and LemonGold seedless lemon brands, and with the acquisition of the Arisa Packhouse, the company has increased its fruit packing capacity.
"Arisa Packhouse, which is located centrally between the Western and Southern Cape Indigo Fruit Farming operations (the fruit producing arm of ANB Investments), will augment the capacity of the other two packhouses located in the region," said Kabous Vryenhoek, general manager.
"With the increase in plantings of citrus in the area, combined with Indigo farms' own citrus plantings in the Western Cape, there was a need to secure additional specialised packing capacity," he continued.
The ability to pack various fruit types makes the packhouse unique, and packing will take place over almost a 11-month period. "More permanent jobs are therefore created," Vryenhoek added.
In the deal, ANB Investments acquired 51 per cent of equity in Arisa Packhouse from Kav Yam, an Israeli investor, with the IDC (Industrial Development Corporation of SA) retaining the remainder of its shareholding in the packhouse.
Manoj Seonath, the IDC's head of agro-processing and agriculture, said it was pleased to welcome ANB Investments as the new shareholder in the venture.
"We are certain that their experience and understanding of the agricultural dynamics of this region will be invaluable going forward," Seonath noted.
While the majority of the group's farming and packing operations are spread across South Africa, including Mpumalanga in the north-east of the country and Limpopo in the north, ANB Investments has been expanding its citrus production footprint to include the Western and Southern Cape.
The group said that these regions offer an ideal climate for the production of soft citrus and lemons in particular.
"The Western and Southern Cape areas are black spot free and allow for entry into more diverse markets. The lateness of fruit from this area also effectively extends the supply season by several weeks."