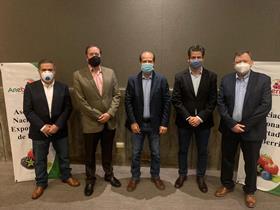 Mexican berry exporter association Aneberries has announced that it will hold its tenth International Congress online from 27-31 July in light of the ongoing coronavirus crisis.
President José Luis Bustamante said in spite of the pandemic the season had closed with "normal to good" results, with output reaching 400,000 tonnes. However, he acknowledged that exports had been disrupted due to logistical problems.
"For the 2020/21 season we expect to see continued growth, but not at the levels seen before the pandemic," he said. "For us it was very important to take care of our workers, be socially responsible and be able to offer Mexico and the world a safe, healthy and timely product."
The congress will cover a wide range of topics, including the impact of Covid-19 on production and global demand; management of new pests and diseases; phytosanitary regulations for the European and Brazilian markets and much more.
Aneberries also announced two important alliances to strengthen Mexico's berry export sector –the first with the North American Blueberry Council, and the second with the United Fresh Produce Association.
Aneberries is made up of 27 of Mexico's main berry exporters with more than 47,000ha of production spread across 22 states. The US and Canada are Mexico's main export market, together accounting for 97.54 per cent of total shipments. Europe and Asia take another 1.59 per cent and 1.0 per cent of exports respectively.

Those wishing to register for the conference can visit: www.congresoberries.com