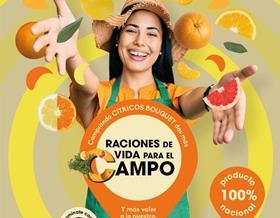 Anecoop has launched a far-reaching campaign to promote Spanish-grown citrus marketed under its Bouquet brand while it is in season.
The campaign, which runs in February and March, spans television, cinemas, print and digital media, and social networks. It focuses on emphasising the health properties of citrus as well as the strategic importance of the domestic industry.
According to data published by Eurostat in January, 33 per cent of Europeans do not consume any fruit or vegetables daily. Despite being a powerhouse in terms of production, Spain does not feature among the five countries with the highest daily intake of fruit and vegetable products.
"In addition to underlining the unique flavour of our domestically-grown citrus, we'd like to remind consumers that buying Bouquet citrus is a way of directly supporting our agriculture, as reflected in our 'Rations of life for the countryside' campaign," Anecoop said in a press release.
"Our citrus is rich in vitamin C to strengthen the immune system, is a great detox product and is fat free – all things to keep in mind at this time of the year, when it is more important than ever to keep our defences up."
The campaign features TV spots on national and regional channels, which will also be shown in cinemas throughout Spain.
Social media activities include actions on popular app eltiempo.es, as well as videos, competitions and infomercials.
Anecoop president Alejandro Monzón said: "we will spare no effort to reverse the downward consumption trend in home-grown citrus.
"We want to remind consumers that this is when our citrus fruits are at their tastiest and healthiest. They are without doubt the perfect fruit for this time of year."