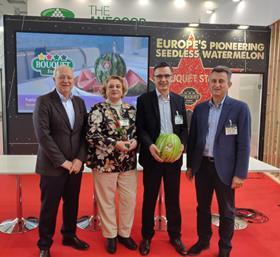 Bouquet seedless watermelons played the starring role for Anecoop at last week's Fruit Logistica trade fair in Berlin. The group help a special event to celebrate the product's 30th anniversary and present the outlook and marketing campaign for the 2022 season.
Anecoop revolutionised watermelon consumption when it launched Bouquet – the first seedless watermelons on the market – in 1992.
What had, up to then, been an almost exclusively domestically consumed product soon became a mainstay of summer shopping baskets thanks to planned production across different regions of Spain to extend the season and a wide-reaching market campaign.
Joan Mir, managing director of Anecoop, said the group had spent a total of €13.75m in promotional campaigns over the past three decades, making it the biggest investment ever by a single company in Spain's fruit and vegetable sector in a single product.
Today, the production calendar runs from April to October and plays a crucial role in providing employment and underpinning Spain's rural economy.
Speaking at the event, Anecoop president Alejandro Monzón, said the product's success was down to having overcome the main barrier to consumption growth, its pips.
"This change in the perception that the European consumer had of the watermelon, allowing us to promote and develop a cultivation programme that covers four Autonomous Communities, in which numerous farmers and their families participate and that for this reason carries an important social value," he said.
Anecoop has sold 2.6m tonnes of Bouquet seedless watermelons, equivalent to more than 520m pieces of fruit. "We have generated 1,750,000 working days in rural Spain and we have invested close to €14m in advertising and promotion in different markets to publicise the product and position the brand," Mir said.
Looking ahead to the 2022 campaign, Anecoop's commercial director Miguel Abril said the production forecast was around 155,000 tonnes, of which 42 per cent will come from Almería, 39 per cent from Murcia, approximately 12 per cent from the Valencian Community and 7 per cent from La Mancha.
Abril said the recent addition to the Group of Almeria-based SAT Montivel would strengthen the start of the programme by adding volume and quality. The season will start slightly later than usual due to recent rains in Almería and Murcia.
Highlighting the challenging cost situation facing the sector, Abril said: "Our aim is to achieve better prices for growers that will allow them to cover their production costs at the very least and ensure that watermelon remains a profitable crop".
Abril also highlighted Anecoop's commitment to sustainable production through the use of useful fauna to combat pests, insect reservoirs to help pollination, the application of systems that allow a better use of irrigation water or the anticipation of European regulations on manufacturing materials, innovating in sustainable packaging.
Introducing this year's promotional campaign, marketing manager Piedad Coscollá said it would highlight on Anecoop's pioneering spirit as the first company to introduce seedless watermelons in Europe, and its acknowledgement of the important role of Spanish agriculture with its 'Rations of life for the countryside' campaign.
The €850,000 campaign will cover the Spanish, French Czech and UK markets, with different activities tailored to each one.
In Spain, the campaign will centre on TV advertising across mainstream and cooking channels, social media activities, aerial advertising over Spanish beaches and press advertising.
Anecoop will also continue its commitment to inclusive sport by sponsoring events such as the II Festival Bouquet of inclusive rugby. Consumers will also have the chance to win a stay in a 'bubble' hotel and recipe books.
In France, TV advertising will be accompanied by social media activities and point-of-sale promotions.
In the Czech Republic, the campaign will focus on sponsorship of sporting events and other outdoor events, such as concerts and festivals, a recipe book, and press and social media activities, as well as collaborations with NGOs in support of Ukraine, among other causes. Finally, Anecoop UK will promote a campaign focused on users of social networks, with information, challenges and other activities.