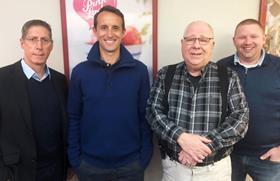 The owners and marketers of leading apple brand Pink Lady have agreed a deal that will see them work more closely on producing, selling and marketing the trademarked fruit around the world, Fruitnet understands.
As a result, Apple and Pear Australia Limited (APAL) – owner of the Pink Lady brand outside the US and Mexico – will now operate as exclusive master licensee for trade to and from those two North American countries, in effect bringing them into a closer-knit commercial network that incorporates more than 90 other country markets.
Brandt's Fruit Trees, the Washington state-based grower, marketer, packer and tree supplier, continues to own the trademark in both the US and Mexico.
Pink Lady America, meanwhile, the organisation established and exclusively licensed by Brandt's Fruit Trees to manage and market Pink Lady-branded apples in the two countries, has also signed up to the new commercial agreement.
According to those involved, the commercial agreement combines the interests, capability and capacity of each company and presents an opportunity for the Pink Lady brand to become even more popular thanks to a fully integrated and linked global network.
Lynnell Brandt, president and founder of Brandt's Fruit Trees and also president of Pink Lady America, commented: 'We are very excited as to this opportunity to more effectively build the brand globally by working together. This will be beneficial to all stakeholders in the chain of offering Pink Lady brand apples to the consumers everywhere possible.'
Phil Turnbull, chief executive officer of APAL, said the agreement aligned the three groups' commercial goals for the benefit of the entire Pink Lady network. '[It] lays the foundations for future success with a framework that provides clarity for market development and brand growth,' he noted.
Andrew Hooke, APAL's chief operations officer, added: 'This is a very exciting and significant step for our respective organisations and for the broader Pink Lady® global network. This brings about alignment across the globe and wonderful commercial opportunities for all concerned.'
Melbourne-based APAL currently licenses over three hundred exporters worldwide.