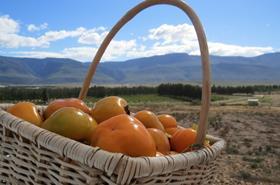 South African growers are expected to harvest around 4,000 tonnes of Sharon fruit this year. The first volumes are expected to be shipped from Cape Town by mid-April.
"We expect a bigger harvest compared with last year," said Hein Smal of Mor International in South Africa (MISA). "Indications are that the first fruit will be harvested around 5 April and then we will be starting to pack soon after."
Despite reports of container shortages causing problems for South African fruit exporters, Smal said did not expect any problems on shipments to Europe and the UK.
"We have concluded our pre-season planning and retailers in the UK and Europe are all keen and ready to receive the first shipments,' he confirmed.
'Sharon fruit offers retailers something new to consumers at this stage of the year when there is a shortage of exotic fruits. Sharon fruit fits the bill of health-giving fruit and is always popular when it arrives in the market."
Fruit destined to the UK will be shipped directly, with no cross-channel shipments as in the past because of Brexit.
"Even in the case of the Far East and other markets our logistics service providers have assured us that they do not expect any problems once the season starts," Smal continued.
Domestic market strength
The industry expects another excellent year in the South African market where the demand for Sharon fruit is increasing every year.
"Despite Covid-19 we probably had one of our best seasons in the South African market last year,' Smal outlined. 'The major retailers have committed to the season and we will also again supply the wholesale markets and therefore other retailers and the informal market."
Sharon fruit is also crossing into other southern African countries where leading distributors such as Freshmark service an increasing number of outlets every year.
Smal explained that the harvest should be completed by mid-May at the latest, with all sectors being supplied until early to mid-July.
"The magic of Sharon fruit is that it is always a new season and Sharon fruit lovers look forward to the arrival of the fruit every year,' he said. 'We are already inundated by consumers enquiring when they will be able to buy the fruit. This is exciting for us and this year the fruit in the orchards looks the best we have seen for a long time."
These comments are echoed by one of the Sharon fruit growers near Bonnievale in the Southern Cape.
Johan Crafford of Crafford Farms said that he had not before seen his orchards and the fruit on the trees looking as good.
"This is the result of an excellent growing season, good weather and enough water,' he added.