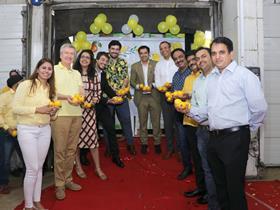 Leading Indian fresh produce company IG International has welcomed the arrival of its first consignment of Argentinian-grown lemons.
Exported by citrus giant San Miguel, the initial shipment of Eureka lemons will be distributed to major cities, including Delhi, Mumbai, and Bangalore.
IG International plans to import around 500 tonnes of Eureka lemons from Argentina over the 2019/20 campaign. Tarun Arora, director of IG International, said this figure could rise to around 2,000 tonnes per season within the next five years.
"India is a grower of limes but this variety of lemon [Eureka] is currently not grown in India," he explained. "The Indian consumer has become very diverse and wants to try anything new.
"IG International represented almost 86 per cent of the total imported lemon market in India. Though the volume is really small we are really keen to work on lemons to grow this category in India for the future."
To mark the opening of the first container, a ceremony was held on Wednesday (25 September) with representatives from San Miguel, the Consul General of Argentina and the Argentina Embassy in New Delhi in attendance.
"We were very happy to learn that a company with the credentials of IG International has chosen the Argentine lemons," said Guillermo Devoto, consul general Argentina. "As you well know you are getting a world-class product so you won't disappoint your sophisticated clientele.
"I would like to congratulate IG International for this first shipment and look forward to seeing the Argentine lemons in the best Indian supermarkets."