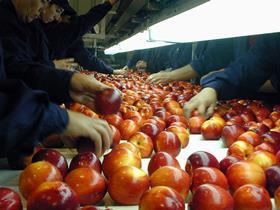 Asoex has developed a guide of good practices to prevent the spread of coronavirus in fruit facilities as part of a wider strategy to deal with the crisis.
On Tuesday, Representatives from Chile's fruit industry met with the government to discuss the measures to be adopted to handle the fallout from the coronavirus outbreak.
Asoex president Ronald Bown presented Agriculture Minister Antonio Walker with a proposal entitled 'Good practices for the prevention of coronavirus in fruit facilities', which was developed in conjunction with the Foundation for Fruit Development (FDF), and seeks to tackle the disease in fruit packing houses.
The document set out the forms of contagion and symptoms of the disease, and provides suggestions for its prevention on a personal level.
It also addresses the correct way to maintain the cleanliness and sanitisation of work surfaces, materials, utensils and tools, in addition of offices and common areas.
The proposal will be reviewed by the minister indicated that they will review the document before considering its rollout across the sector.
The meeting also analysed contingency plans set out by plant safety authority SAG to keep ports and phytosanitary inspection sites operates in the event that the virus should spread.