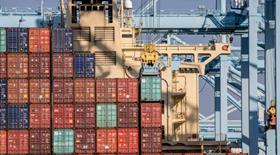 The Port of Los Angeles processed 961,833 TEUs in August (2020), a 12 per cent increase on the corresponding period last year.
Imports drove the volume growth, increasing 18 per cent to 516,286 TEUs compared to August 2019. Loaded exports decreased 10.2 per cent year-on-year to 131,429 TEUs. Empty containers increased 13.3 per cent to 314,118 TEUs.
There was one cancelled sailing in August, with none scheduled for September.
Year to date, the port's overall cargo volume has decreased 11.7 per cent compared to the same point of 2019.
"In May we saw our lowest container volumes in more than a decade," said Gene Seroka, executive director of the Port of Los Angeles.
"Since then, there has been a significant replenishment of warehouse inventories. Coupled with retailers planning for consumer holiday spending, it has created a surge of imports."