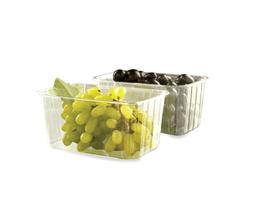 Food safety and hygiene are top priorities for considering use of post-consumer recycled (PCR) content in food packaging. When AVI Global Plast introduced 80-90 per centrecycled PET in films and packaging designs in 2013, the firm used state-of-the-art co-extrusion equipment to sandwich post-consumer material between virgin materials to deliver exotic fruits across six continents, fresh and contamination-free.
But, in the wake of increasing regulations towards prevention and management of plastic waste globally, AVI Global was keen to entirely eliminate the use of virgin materials from its range of PET offerings.And, after rigorous trials and testing, today AVI is ready with 100 per cent rPET products made entirely out of plastic waste, yet 100 per cent safe for food-contact.
Now, the company is looking to help fruit retailers and the rest of the value-chain optimise their carbon-footprint and align with government-backed interventions that incentivise curbs on plastic waste pollution and use of PCR through state levies or plastic tax mechanisms.
'Sustainability is on the agenda of all of our clients, especially our partners in the European Union and the UK,' says Sukhdeep Singh Sethi from AVI Global Plast. 'Governments in these regions have announced and implemented incentives to curb plastic waste pollution and promote the use of recycled content through mechanisms like state levies or a plastic tax.
'Our 100 per cent recycled food-grade PET clamshells and punnets intend on helping fruit retailers and other supply-chain partners adhere to evolving regulations and mandates concerning the sustainability and circularity of plastic packaging. By using 100 per cent recycled content, our clients can reduce their dependence on virgin raw materials by 100 per cent.
'We can further help them derive raw material savings by downgauging pack designs by up to 10 per cent, thus, extending the value and application of precious, renewable materials for longer while preventing their overuse,' he adds. 'Overall, our offerings open opportunities for clients to further optimize their businesses' carbon, water, energy and waste footprints.'
Across the globe, in Europe and the USA for instance, standards and guidelines have been mandated to regulate food packaging that uses 100 per cent rPET. One such globally adopted standard is the European Food Safety Authority (EFSA) approval for food-contact safety. EFSA certifies only those recycling processes that use super-cleaning technologies to produce recycled content with virgin-grade properties, making the circular system truly safe, sustainable and scalable.
AVI Global's latest 100 per cent rPET offering is designed with flakes derived from an EFSA-approved recycling process. This is to reassure clients about receiving quality products that comply with reliable standards. With clarity and impact resistance comparable to virgin materials, AVI Global's 100 per cent rPET offerings are also 100 per cent recyclable with no toxic additives added. With this, retailers and brand owners can potentially give their packaging endless life while making way for recyclers to access high-quality feedstock to close the loop more sustainably.
'We are looking to service punnet requirements for grapes, kiwis, dragonfruit, cherry tomatoes and various kinds of berry - strawberry, blueberry, raspberry etc. We have an extensive design range offered in 100-1000 gram SKUs, we are also open to any customization, if needed,' says Sethi.
'We offer both, clamshells and heat-sealable punnets. Our punnets/trays offer good seal properties, meet preferred pack design standards and are compatible with high-speed machine lines running in the UK and EU – these are top reasons for their acceptance among major importers here.
'At present, AVI Global Plast is the only Indian supplier to offer 100 per cent rPET sheets and thermoformed packs of food-grade quality. The team at AVI is intent on encouraging partners to save more energy, reduce carbon emissions and plastic waste and enhance livelihoods in a virtuous loop,' he adds.