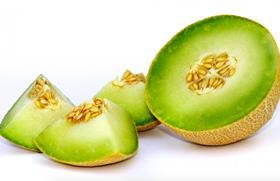 Bayer has launched its new Galkia melon at Fruit Logistica in Berlin, saying that it is designed to 'bring back traditional tastes as 'the melon that tastes like a melon'.
'With this novelty, Bayer pulls together the melon flavour of yesterday and provides best quality along the whole summer,' the group noted.
The company said that its goal with the new Galia brand was to return to the 'time-honoured melon, with all its aroma and flavour'.
'Galkia promises to fulfil the demands of today's markets at every step of the value chain thanks to the product properties,' the group added. 'On one hand, with Galkia, Bayer can provide a melon that will be at its best quality point when consuming. As a result, Galkia easily leads to many repeat purchases, building consumer loyalty and trust which of course is good news for all retailers, traders and growers that deal with this melon.'