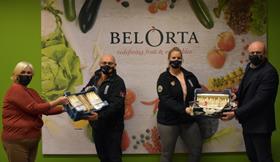 Cooperative BelOrta has kicked off the much-anticipated Belgian asparagus season with the sale of the first white spears of the new campaign.
The asparagus, grown in greenhouses, was supplied by Marja van Dessel of Den Boschkant, with the first trays purchased by wholesaler Fruithandel Sebrechts at €240 per tray.
Following tradition, BelOrta donated the proceeds, this year to five different charities. "2020 was a very difficult year for many, but certainly also for charities," explained Jo Lambrecht, BelOrta's sales and marketing manager. "Many fundraisers were dropped, which meant they could generate less income. We therefore chose to make five charities happy this year with the proceeds from these primeur asparagus."
"The money will be well spent on further actions and campaigns," confirmed Luc Clement of one recipient, Stop Colon Cancer. "That this happens thanks to the 'white gold' is a bonus! That is also important in the prevention of colon cancer."
This year, BelOrta revealed, the asparagus will be sold only in cardboard trays, as the cooperative continues its efforts to make its packaging more sustainable.
After the first greenhouse-grown asparagus, spears grown under tunnels will follow, before open-field asparagus arrives. It is not until March that volumes really start to pick up, with the peak months occurring between April and the end of June.