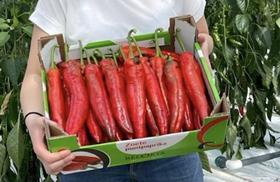 Belgium's BelOrta has announced that sweet pointed peppers are once again available at the cooperative, with the first of the season produced by Luc Van Den Bosch from Koningshooikt, purchased by Lejeune from Sint-Katelijne-Waver.
In 2021, around 1,300 tonnes of sweet pointed peppers were supplied, according to the cooperative, similar to the volume of the previous year.
"The sweet pointed pepper is very popular in Mediterranean preparations, but also shines in traditional dishes," BelOrta stated. "Due to its wonderfully sweet taste, the sweet pointed pepper, just like the normal peppers, can be integrated into virtually all dishes. Their thin skin makes them perfect for preparing grilled dishes. Finally, because of their sweet taste, pointed peppers are also ideal as a fresh and crunchy snack."
BelOrta's growers produce red, yellow and orange sweet pointed peppers, as well as standard varieties of peppers in green, yellow and red, and organic peppers. In addition, the cooperative offers various specialties, including the baby pepper, the Jalapeño, Piccantina and Habanero.