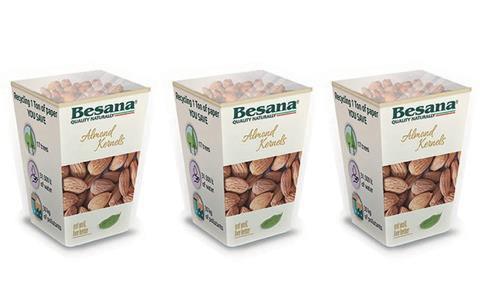 Dried fruit and nut supplier Besana Group is aiming to ensure that all of its product packaging is fully recyclable within the next five years.
Targeting zero waste by 2025, the Italian company said it also wanted to have 'zero impact' on the environment by 2035, when all of its packaging will be produced entirely from renewable and recycled sources.
'We have been investing an important part of our resources in environmental sustainability for years,' commented group managing director Riccardo Calcagni.
'We want now to strengthen and enhance our green objectives through the implementation of concrete actions that, within the next 15 years, will lead us to adopt a proper circular and virtuous system for all our production worldwide.'
Next year, around one quarter of Besana's packaging will be recyclable, including a new fully biodegradable and compostable format which is set to be rolled out soon.
This will be made entirely from cellulose-based materials, which have been heralded as a viable alternative to conventional plastics used in trays, punnets and top-seal films.
GianPaolo Gentile, head of purchasing and packaging specialist at Besana, said substituting plastic packs would make a big difference.
'[This is] a solution designed to be completely recoverable on paper, a concrete and eloquent example of our commitment to the environment,' he said.
Besana currently has a total 35 packaging lines split across four different production sites, turning out more than 150 different product lines and 125m individual packs each year.
In 2019, it began using fully recyclable polyethylene, which it said had already prevented nine tonnes of carbon dioxide being emitted.
Overall, the company added, a reduction in the use of plastics in favour of recycled raw materials had curbed its CO2 consumption by almost 500 tonnes, rising to more than 2,000 tonnes when factoring in efficiency improvements in its production processes.