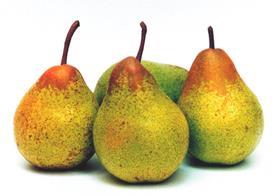 Portugal's Rocha pear sector is confident of achieving an improved export campaign this year, after early harvest indications showed that the 2011 crop should return to 2009 levels after last year's disappointing season.
Production levels are forecast to reach around 200,000 tonnes this season, which, if realised, will mark a significant improvement on the 13 per cent year-on-year drop in volumes recorded in 2010, according to Portugal's National Association of Rocha Pear Producers (ANP).

Portugal currently exports 50 per cent of its total production, with some 80,025 tonnes sold outside the country during the 2009/10 campaign to markets such as the UK, France, Ireland, Brazil, Poland and Russia.

This year's campaign will be supported by Portugal Fresh, the cross-sector promotional organisation, which was created last December with the aim of promoting the country's fruit, vegetable and flower exports.