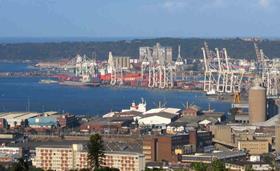 South African citrus exports to Europe and Russia were given a boost this weekend with the loading off what was reported to be the largest conventional reefer vessel to have visited a South African port.
South African Citrus Growers' Association spokesman Mitchell Brooke told the media in Durban that the vessel Cool Eagle had loaded a consignment of citrus fruit destined for Europe and Russia.
While conventional reefer shipments to Russia have been common practice for the South African export sector, increased conventional reefer shipments to Europe demonstrate a shift.
This comes in the light of continued limited supply of containers available for South African exporters.
"The wheel is turning somewhat after two decades of dominance by containers," said one exporter. "However, the future for us lies in maintaining a healthy balance and adapting the mode of shipping, where we can, to the best way of servicing each market."
Mikhail Fateev, who represents the South African citrus industry in Russia, said that to date only limited container shipments of South African citrus had been received by Russia.
"We expect the first reefer shipment from South Africa shortly and this will also be followed by shipments of Argentinian citrus fruit,' he confirmed. 'In summer, the demand for imported citrus is relatively slow, with the market normally picking up once the cooler months arrive."
The shortage of containers has been a feature of this South African export season as trade between the east and the US dominated the use of containers.
More shipping resources have been employed on the East-West trade to cope with the unusually high demand for containers.
It is reported that shipping lines are also earning much higher freight rates between the east and the US and that they are deploying more of their vessels on those routes.
It has also not helped the South Africans that problems with wind in Cape Town and inefficiencies have caused shipping lines to bypass Cape Town, with the result that empty containers could not be landed be landed in the port.
Brooke said the Cool Eagle had the capacity to carry 13,000 pallets on each voyage. "Being focused on supplying Europe and Russia only, the vessel is able to deliver its consignment much quicker than would be possible on container vessels.'
In the past, conventional reefers have been used mainly to augment reefer container shipments at times of particular shipping pressure, or where it makes sense in terms of market supply, where a larger volume of fruit can be shipped together in one vessel.
It has been widely used by the Cape citrus industry to supply its programme to the US, as well as shipments to Japan.
More recently it has also been employed for co-loaded shipments to Japan, China and South Korea.
It is well-known that the citrus industry has for some time been arguing there should be a better balance between the use of containers and conventional reefer vessels, according to the needs of each market.
Other logistics groups and exporters have also for many years been chartering conventional refers when it has made sense.
Last year's Covid-19 pandemic congestion in the port of Cape Town and efficiency problems in other ports have further promoted this strategy.