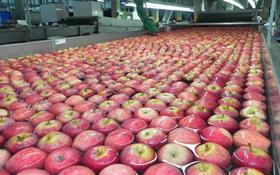 Brazilian apples moved a step closer to gaining access to India following a commitment by the agriculture ministers of both countries to work towards an early resolution of outstanding phytosanitary issues in a bid to boost bilateral trade.
In a meeting last week, Blairo Maggi and his Indian counterpart Radha Mohan Singh discussed various issues related to agriculture, livestock and trade and agreed to develop closer relations between the two countries, according to an official statement.
Apples are a highly political issue in India and the use of non-tariff barriers to restrict imports and protect domestic production has proved a challenge for successive Brazilian governments. seeking to capitalise on growing demand. Chile and the US are two of the countries that have made steady inroads into the market in recent years.
In addition to apples, Brazil is keen to gain access for avocados, table grapes and a range of other agricultural products.