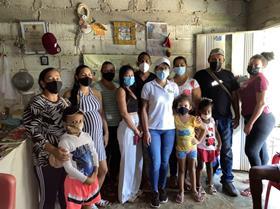 Fyffes, Banasan Foundation, Albert Heijn and local banana producing companies in Magdalena, Colombia, have initiated the second stage of the Building Dreams housing improvement project with the objective to improve the living conditions of 100 families in the region.
In December 2021, the first 40 beneficiary families were selected based on their household income and living conditions. Many of them work in the farms associated to Banasan in the Magdalena department of Colombia.
Fyffes said it aims to enrich the livelihoods of the communities in the areas where it operates. Building Dreams is part of the company's broader sustainability target which seeks to benefit neighbouring communities.
Julie Cournoyer, the company's global director of sustainability, commented: "Fyffes invests in long-term partnerships with our suppliers, and we are delighted to partner with Banasan Foundation and Albert Heijn to make Building Dreams a reality for the beneficiary families.
"Ultimately, we aim to help build resilient communities and contribute to their economic development and enrichment."
The initial phase of the project included the identification of the needs and living conditions of each beneficiary family to determine the type of improvements that can be done following the provisions set forth by the United Nations in The Right to Adequate Housing, which emphasise the importance of basic habitability elements such as sanitation, bathroom or sanitary unit, kitchen, and rooms in optimal condition.
Banasan Foundation also conducted a needs identification survey to obtain additional insights on family relationships and coexistence with neighbours as well as other community concerns.
Based on the result of these surveys, an action plan will be implemented to promote sustainable development through empowerment, healthy environments, and adequate support networks among the beneficiary families.
This includes workshops and psychosocial training not only for household adults and direct beneficiaries, but also for minors and other members who make up the family nucleus.
Marit van Egmond, Albert Heijn CEO, said of the initiative: "Our new Albert Heijn mission, 'Together making better food available. For all' is fuelled by our conviction that food plays a compelling role in dealing with many current societal challenges.
"We would like to express our sincere appreciation and heartfelt gratitude to Banasan and Fyffes for embracing our cooperation in dealing with these challenges."
Edgar Chalhoub, Banasan CEO, added: "We are delighted about the new alliance with Albert Heijn. We believe this is the way of achieving a real impact within our industry, thus within our communities.
"We look forward to continuing to work with Fyffes and Albert Heijn to improve the living conditions of farm workers and their families in Magdalena."