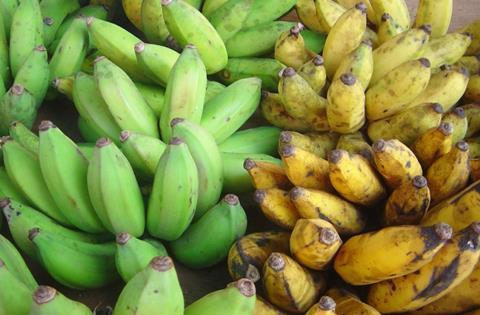 Burundi, one of the world's largest banana producers, is reportedly increasing its exports of the fruit and could potentially catch up with its more established neighbouring suppliers Côte d'Ivoire and Cameroon.
World Bank figures show that the East African country produced around 1.6m tonnes of bananas last year – mainly dessert varieties referred to as FHIA-17 and FHIA-18 – and exported around 10 per cent, mostly to Western Europe.
The bank estimates that Burundi's banana exports will surpass tea and rubber in the next three years, provided the current growth trend continues.
One of the five poorest countries in the world, Burundi was blighted by civil war and genocide during the first few decades of its existence after being granted independence from Belgium in 1962.
But in the past ten years, the country has begun to rebuild its economy. In 2012, the government launched a poverty eradication plan, part of which provided grants and loans to farmers.
"About 1,600 banana farmers have [received] grants since 2012," explains Rubina Hubiryama, a banana producer and exporter who also acts as chairperson of the country's association of small-scale banana farmers.
"Sometimes one has to take risks when you give money but it pays. But if you want to see positive results, it pays."
Hubiryama says Europe is the largest export market for Burundi bananas. The country, according to Rubina, exports most of its bananas to France and Belgium.
The economy is currently growing at about 6.7 percent per year based on World Bank figures. Government economic reforms on poverty eradication have taken shape since 2012.
'Through a government policy paper of 2012, poverty eradication through giving loans and grants to farmer's is paying off well. So far, more than 500 small scale fruit farmers in BurundI have received small to medium loans to trade in fruits, mostly bananas.
'The loans or grants have ranged from between $400 to about 5,000. The money is for business expansion based on the proposal needs,' says Rubina.