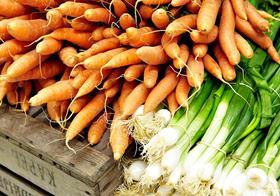 Fresh produce sourcing arrangements at Scandinavian supermarket group ICA will remain unchanged for the time being at least, despite today's announcement by Dutch retail giant Royal Ahold that it has reached agreement to sell its 60 per cent stake in ICA to Stockholm-based firm Hakon Invest, Eurofruit can confirm.
ICA has collaborated closely with Ahold on procurement of fresh fruit and vegetables for many years having established ICA Sourcing & Services (ICASS), a joint venture with the Dutch grocery group to source perishable products for ICA stores across the Nordic region and for the Netherlands' largest supermarket chain, Albert Heijn.
That arrangement is not expected to be pulled apart as a result of the change of ownership at corporate level. 'It's business as usual,' said Gé Happe, Ahold's sourcing director for Europe, who was in Berlin last week for the Fruit Logistica trade fair. 'We are going to carry on as before.'
Ahold has reached agreement with Swedish firm Hakon Invest, which currently owns 40 per cent of ICA, to sell its majority shareholding for SKr21.2bn (€2.46bn) in cash, with the deal expected to be completed by the middle of this year.
The agreement, which is subject to approval of regulators and ICA members, and which includes ICA's 2012 dividend of SKr1.2bn (€139.2m), follows Ahold's decision two years ago to focus on the fully-owned parts of its business to 'create value' and drive growth.
That decision led to the start of a major review of Ahold's strategic options with regard to ICA back in September last year.
'This transaction will have no direct impact on the joint activities of ICA and Ahold in areas such as sourcing and responsible retailing,' said a spokesperson for the Dutch company. 'These initiatives, which go back more than 30 years, are mutually beneficial and support business goals.'
ICA is Sweden's leading food retailer and also operates ICA and Rimi stores in Norway, as well as Rimi stores in the Baltic countries.
ICA runs 2,215 retailer-owned and company-operated grocery stores and generated a total of SKr96.9bn (€11.2bn) in sales in 2012.