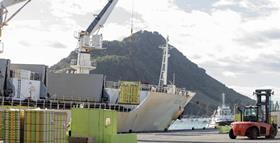 The refrigerated (reefer) cargo shipping sector is so far proving to be largely immune to the impact of the worldwide coronavirus outbreak that is disrupting global trading patterns and bringing supply chains to a standstill.
In the week (16 March) when coronavirus Covid-19 was labelled a global pandemic, the price of oil fell to a level last seen in January 2016, turmoil in global financial markets saw US$ billions wiped off stock values in Asia, the US and Europe - yet the demand for reefer capacity, both specialised and containerised, remained robust.
Unlike the markets for dry bulk and dry goods, the issue for reefer is with supply. While the container lines are struggling to re-position their equipment away from areas in which there is heavy congestion and where reefer boxes have been stranded for several weeks, the specialised reefer fleet is optimally employed.
The list of open tonnage is short, bunker costs are low, demand is good, time charter rates and voyage rates for spot charters are the highest they have been for several years. And as long as the various global health, economic and geo-political crises maintain their respective courses, there are good reasons to believe that the collateral impact of coronavirus on the specialised mode will continue to be positive.
Trading conditions certainly favour the reefer – cargo interests report a significant shortage of reefer containers, bunker prices are low and operators report an uptick in demand on liner strings. Reefer operators continue to receive cargo enquiries from traditional container clients. However, the gap in expectations between the reefer and container rates remains wide enough to disincentivise a defection.
In the short term, there will likely be a sharply negative knock-on impact of the ongoing crises on the Ecuadorian banana industry. Even at roughly half the Minimum Reference Price, the spot traded exit value is not currently sufficiently attractive for traders to speculate.
There are several reasons: firstly, there has been no material improvement in pricing in the saturated eastern Mediterranean markets, while there is more containerised fruit on its way. Secondly, at US$5.50-plus per box, the reefer voyage rate is too costly in comparison to whatever containers are available, and there are no small ships available to mitigate the volume risk. Thirdly, Ecuador has lost the Chinese market, and although this may only be temporary, it has led to more bananas being available at source. Fourthly, there are logistics issues, particularly with lengthy delays at the Panama Canal. Fifthly, there are competitive volumes available in Colombia, which is significantly more attractive to both the Mediterranean traders and the reefer operators, as vessels do not need to transit the Canal. Finally however, and most importantly, Ecuador is anticipating a heavy increase in banana production within the next two to three weeks.
In the Southern Hemisphere, Chilean table grape volumes have defied pre-season expectations. As a result of logistical difficulties in shipping product to China, exports to the US and EU have risen – the former by 7 per cent year-on-year and the latter by 40 per cent. Any price pressure on the US market caused by the additional volume has been more than offset by the weakness of the Chilean peso, which last week fell to a record low level against the US dollar.
Meanwhile, ahead of the kiwifruit season, New Zealand is active and charterer Zespri is apparently eager to hit the various markets early with good volumes. The reefer Crown Topaz is loading this week for Zeebrugge, while operator Fresh Carriers is to operate as planned to China and Japan, in spite of the of the virus. The 2020 kiwifruit season is forecast to be another large crop in New Zealand with 155m trays of predominantly Green and Gold kiwifruit, up from last year's total of 147m trays.
Finally, the combination of low bunker prices and a shortage of reefer containers could benefit South African citrus shippers, if a) stakeholders can persuade themselves that the reefer is still a viable alternative to a third party container line service, and b) they can organise inland logistics to deliver to reefer terminals instead of container ports.
Cheap bunkers make the reefer significantly more cost competitive at a time when citrus exporters need a genuine alternative to the carriers. Citrus shippers last year were let down badly by port operator parastatal Transnet – a series of labour and/or infrastructure issues at the container ports of Durban, Port Elizabeth and Ngqura led to Eastern Cape farmers in particular losing significant sums due to fruit spoiling on the quayside.
Richard Bright is the editor of Reefer Brief, the benchmark weekly publication for the global reefer shipping business.