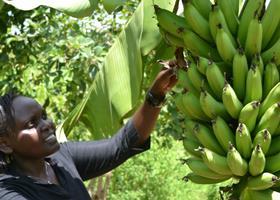 Cameroon's banana industry continues to reap the benefits of the 2009 economic partnership agreement with the European Union, with both volumes shipped and quality on the rise.
The country is one of the world's largest banana producers, expecting to grow over 500,000 tonnes before the end of 2013, and has become a major exporter of the fruit as demand in Europe continues to bite.
'We hope that the country can produce well over 500,000 tonnes of fresh bananas per year as European demands continue to pile pressure on producers, and competition continues to encourage marketers,' said Henry Quan, general manager of Cameroon Banana Producers.
'Last year year the country exported over 240,000 tonnes of the fruit, mostly the traditional variety,' he continued. 'We also developed better varieties through tissue culture research, as with greater demand comes pressure for higher quality.
The leading markets for Cameroon's bananas are Spain, France, Guadeloupe and Martinique.
It is not all plain sailing for the export industry, however. High transportation and electricity costs, poor road networks and water supply, and strong competition remain major obstacles for Cameroon's exporters.
'Banana production will continue to increase up to 2019 at least,' explained Quan. 'Demand in Europe is growing by at least 20 per cent while in the United States it is at 17 per cent. This year, we are to witness a soaring oversupply from African countries, Caribbean countries and from the Philippines to Europe.
"Global Banana exports increased to more than US$7.9bn per year since the economic partnership agreements between the European Union and individual countries came into force.'
Meanwhile, Kenyan banana exports to the UK increased in 2012, mainly due to varietal development. Some 96,000ha of land are used for banana cultivation in Kenya, and demand from the UK is on the increase.
Ngombe, Chinese Cavendish and Uganda Green are the banana varieties that are exported to Europe from Kenya. So far, the country has around 6m banana seedlings established in warehouses across the country.