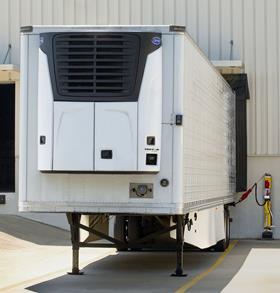 Carrier Transicold has launched a new, engineless all-electric trailer refrigeration unit, built to provide stationary coldstorage. The Vector 8100 provides up to 4 per cent greater cooling capacity while using up to 20 per cent less electricity than the Vector 5100, the unit it succeeds, the company said.
"Designed especially for supermarkets, produce warehouses, food distribution centres and other businesses that use refrigerated trailers for on-site coldstorage, the innovative Vector 8100 unit provides quiet electric operation without the noise, emissions and fuel consumption associated with diesel-powered units," said Mark Fragnito, product manager at Carrier Transicold. "As the newest member of our enhanced Vector family, it joins the highly efficient Vector 8500 single-temperature and the Vector 8600MT multi-temperature models, both of which are designed for over-the-road transport and compliance with EPA Tier 4."
The Vector platform features E-Drive all-electric refrigeration technology, which means refrigeration and heating operations are 100 per cent electric. Compared with conventional mechanical trailer systems, those using E-Drive technology have fewer moving parts, resulting in quieter operation and reduced maintenance needs, the company said. The latest Vector models use an efficient and fully sealed electric scroll compressor that has 70 per cent fewer moving parts and is 200 pounds lighter than the reciprocating compressor it replaces. This contributes to a 13 per cent weight reduction for the Vector 8100 unit.
"While all Vector models may be plugged into an electric power source when parked, the Vector 8100 also eliminates the cost and weight of the onboard power plant needed for highway hauls – the diesel engine and high-capacity generator found in its siblings," Fragnito said.