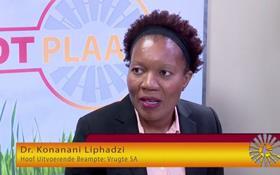 Fruit South Africa has announced the departure of its chief executive, Dr Konanani Liphadzi.
Liphadzi was the first CEO of the umbrella body of the South African fruit sector, which includes the citrus, deciduous, sub-tropical and table grape sectors.
In a statement, Justin Chadwick, chairman of Fruit South Africa, said after six years in her position Dr Liphadzi would be pursuing other interests.
Chadwick said Liphadzi had played a leading role in promoting the interests of the industries and Fruit South Africa.
"She put Fruit South Africa on the map. It is incredibly difficult to step into a vacuum, with no reference point or example to follow in your new job,' he outlined.
Liphadzi took on the challenge and raised the profile of Fruit South Africa to a point where the organisation is well known in government circles and amongst Fruit South Africa stakeholders.
"Being an association of associations also has its challenges – which she navigated with great results,' Chadwick noted. 'We wish her all the best in her future endeavours."
Reflecting on her six years at the helm of Fruit South Africa, Liphadzi said she was grateful to the Fruit SA board who allowed her the space and resources to bring the Fruit SA idea into life.
"As I leave, I am fully convinced that as South Africans we have it within ourselves, our country, our sector and our industry to significantly improve the socio-economic equity challenges that face our country,' she said
Fruit South Africa was first established in 2001 in the aftermath of deregulation by leading exporters to coordinate the promotion of South Africa's fresh produce.
Until Liphadzi took office the company was mainly used when needed for lobbying and other exercises. In recent years Fruit South Africa has taken a much more prominent role and coordinated government lobbying programmes, as well as the South African fruit industry's participation in major international events.
Liphadzi will leave office at the end of March 2020, and there has been no announcement on her successor.