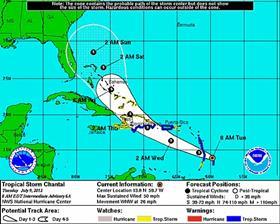 Tropical storm Chantal is threatening banana-producing islands in the Caribbean after gathering strength in the Atlantic.
The storm was achieving maximum sustained winds of 50mph at 8am Atlantic Standard Time (1pm BST) on Tuesday and was about 85 miles east of St Lucia.
A tropical storm warning was in effect for Barbados, Dominica, St Lucia, Martinique, Guadeloupe, Puerto Rico and parts of the Dominican Republic, the National Hurricane Centre in the US announced. "Chantal is moving toward the west-north-west near 26mph and this general motion is expected to continue for the next couple of days," a statement from the centre said.
Strengthening wind speed is expected over the next 48 hours and Chantal is forecast to move into the eastern Caribbean on Tuesday afternoon, affecting "portions of the Windward Islands" and approaching the Dominican Republic on Wednesday. The storm is expected to produce "rainfall accumulations" of 5-10cm over the islands with a maximum of 15cm possible.