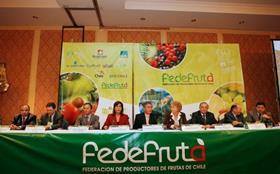 The Chilean fresh fruit growers association (Fedefruta) kicked off its 21st national convention and 6th Fruittrade event in Santiago, Chile, yesterday (Monday 29 September) in the presence of Chilean President Michelle Bachelet and more than 700 growers from all parts of the country.

Speaking at the two-day event, Fedefruta president Rodrigo Echeverría catalogued a growing list of difficulties for the Chilean fruit sector, including the abysmally low value of the US dollar earlier this year (460 Chilean pesos to the dollar) and the increased cost of salaries, fertilisers, pesticides, energy and port fees.

"Our production costs – when labour is included – have gone up by 30 per cent in just this past year," Mr Echeverría told delegates.

The Chilean fruit leader also warned that health authorities need more support to keep the country's orchards free from international pests, and expressed great concern about the state of the US economy, which he said is now in a recession.

"Our products are traded in countries all around the world," commented Mr Echeverría. "And when consumers have less disposable income, it impacts on demand for fresh fruit. On the other hand, hard economic times means that families will tend to eat at home more often."

Manuel José Alcaino, president of Decofrut, a leading fresh fruit consulting and service provider based in Santiago, also spoke the opening day of the convention, echoing many of Mr Echeverría's concerns while insisting that Chile's fresh fruit industry is not facing a crisis.

Mr Alcaino noted that while prices for Chilean-grown Thompson seedless table grapes and export grade peaches barely met production costs during the 2007/08 season, many other fruit export categories fared quite well on international markets.

"Apples, kiwifruit, cherries and avocados did quite well in 2007/08," Mr Alcaino said. "And the results for pears, Red Globe table grapes, oranges, lemons and blueberries were also quite respectable."

Mr Alcaino also told delegates that Chile's competition from other Southern Hemisphere fresh fruit suppliers is "under control", but urged exporters to take the Asian market more seriously on account of its potential to absorb greater volumes from Chile.

The Fedefruta convention is held each year on the eve of the new Chilean fruit export season, and serves as both a retrospective on the past season and a window to the upcoming season.