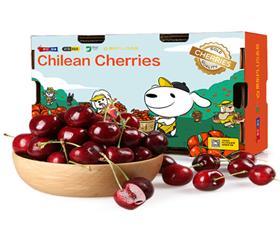 Chile is on course to ship 361,840 tonnes of cherries in 2021/22, equivalent to almost 72.4m (5kg) cartons according to the latest crop forecast released by Asoex's Cherry Committee.
The revised estimate, which is 6.6 per cent down on the initial forecast published on 10 November, represents a 2.6 per cent increase on last season's shipment total.
Together, the committee's 95 members account for more than 82 per cent of Chile's cherry export volume.
Asoex president Ronald Bown said China will once again be the leading market for Chilean cherries.
"China will continue to be the main destination, although its share of shipments is expected to fall from 91 per cent to 88 per cent this season," he said, adding that the anticipated increase in exports to other markets reflected the industry's growing diversification efforts.
Cristián Tagle, chairman of the Cherry Committee, commented: "Fruit quality is very good this year. Moreover, we are fully prepared to comply with the requirements of our destination markets, thereby avoiding any setbacks".
A total of 53,000 tonnes of cherries have been shipped to date to different markets.