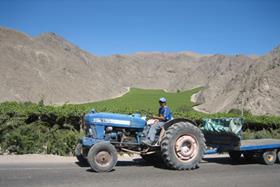 The first volumes of table grapes from Chile's Atacama region have been shipped, marking the official launch of the 2021/22 season. The consignments of Flame, Prime Seedless and Midnight Beauty are destined mainly for the US market.
Daniela Norambuena, the executive secretary of the Northern Agricultural Society (SAN), said the outlook for traditional and licensed varieties is favourable, in spite of the challenges growers have faced, principally the ongoing water shortage.
Agriculture Minister María Emilia Undurraga attended a launch ceremony to mark the start of the new campaign hosted by the Association of Agricultural Producers and Exporters of the Copiapó Valley (APECO) last week.
Negotiations are currently underway between Asoex and USDA-Aphis to allow grapes from the northern region to be shipped to the US under a systems approach.
Claudia Pradenas, regional director of ProChile, said such a move would be a "major milestone" for producers in the Copiapó Valley, as the US is the leading destination for the area's table grapes, equivalent to 50 per cent of total exports.
According to Asoex, Chile is on course to export around 84.6m (8.2kg) cartons of grapes this season, an increase of 14.9 per cent in relation to the 2019/20 season, and 29.3 per cent up on 2020/21, when production was impacted by unexpected summer rains.