Exporters still awaiting US publication of Systems Approach protocol
Chile has kicked off its 2023/24 table grape season with harvesting of the first varieties in the Copiapó Valley.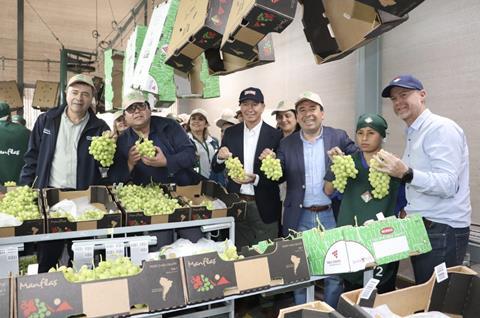 At a ceremony to mark the new campaign, Asoex president Iván Marambio said the mood in the sector was one of guarded optimism. "The lower volumes from competing countries opens up an opportunity for us in the short term, but we must continue to focus on making improvements in the medium and long-term," he told Simfruit, the official portal of the Chilean fruit export industry.
Marambio noted that climate change and the impact of El Niño would make 2023/24 a challenging season, along with the fact that the US has still not published the Systems Approach protocol allowing shipments of grapes without fumigation.
"This is vital to improve our competitiveness in the medium and long term, especially as the US is our biggest market for grapes," he said, adding that "our industry has waited more than 20 years to have this protocol and everything technical has already been agreed upon by both countries, and today the only thing missing is its publication in the US Federal Register".
The most recent forecast from the Chilean Table Grape Committee points to an export crop of 63.64m cartons (8.2kg) for 2023/24, an increase of 5.2 per cent on last season.
The committee's coordinator, Ignacio Caballero, said: "The important thing about this second estimate is that it consolidates the projected volume of shipments of new varieties at 63 per cent of the export total."
Caballero said the Atacama region is projected to export 10.5m cartons, similar to last season, while Coquimbo's export crop will decrease by 5 per cent to 10.7m cartons. "All of which make the implementation of a Systems Approach even more important for these regions," he noted.