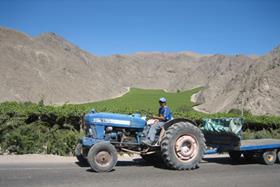 INIA-Biofrutales's Genetic Improvement Programme has identified five genotypes that it believes have the potential to become commercially successful 100 per cent Chilean table grape varieties.
Crunchiness, flavour, berry size, attractive colours and easy handling of clusters were some of the key characteristics observed in the new selections.
A presentation of the genotypes was held at INIA's La Platina Regional Centre, where participants were able to sample the grapes and assess their suitability for inclusion in Chile's varietal offer.
Luis Fernández, general manager of Andes New Varieties Administration (ANA), Chile's leading nursery group, said: "We observed interesting candidates that have the potential to become very competitive varieties on an international level".
Two selections in particular – one pink and one black – stood out for their colour, size and firmness.
Paola Barba, a geneticist at INIA La Platina and director of the Genetic Improvement Programme, said: "both have an early harvest date that makes them interesting, but, in addition, the first stands out for its muscatel flavour and the second for its crispness and colour".
Rodrigo Cruzat, manager of the Biofrutales consortium, explained that the most promising selections will advance to the pre-commercial scaling stage to define their potential and deliver a basic management package that helps producers.
The intermediate selection stage of the Genetic Improvement Program evaluates grapes grafted onto adult plants, under a basic management system, and analyses them post-harvest. If the results are positive and sustained over two or three years, the selections will go on to advanced scaling, where more specific agronomic management techniques will be developed for different agroclimatic conditions in different regions.
From there, the best performing selections will go forward for registration and subsequent commercial launch as a variety.
INIA-Biofrutales said the Genetic Improvement Programme aims to deliver high-quality table grape varieties capable of competing at a global level.