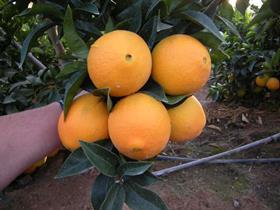 Exports of Chilean fresh citrus to the US are tipped to reach over 72,000 tonnes this season – a new record for the South American supplier – due largely to access for the country's sweet oranges and grapefruit, according to the Chilean Fresh Fruit Association (CFFA).
Through 6 October, some 22,720 tonnes of fresh Chilean navels arrived in US ports, according to the USDA, as well as 31,540 tonnes of clementines, 14,940 tonnes of lemons and 2,640 tonnes of tangerines, making the summer of 2009 the most prolific season ever for Chilean citrus exports to the US.
Clementine shipments are up by over 600 per cent against last season and navels have already passed early goals of 20,000 tonnes for their first season, CFFA said. Excellent color, larger sizing and high-quality also reportedly helped to jumpstart early movement.
According to CFFA, much of the success has been attributed to the patience and strength of grower organizations in Chile that held off on early season shipments and waited for maturity and brix to be at levels that the US market has come to expect.
"You are only new once, and we stressed this to the growers and exporters to avoid negative first impressions of early season fruit," explained Ronald Bown, chairman of the Chilean Association of Exporters (ASOEX).
As Chile's citrus season winds down, total shipments to the US should exceed 72,000 tonnes. With the change of seasons, domestic citrus production is now gearing up, while supplies of cherries and apricots are set to come online in November, followed by table grapes and berries by the end of the year.
"Chile has once again filled a domestic supply gap with reliable, high-quality fruit shipped via a world-class supply chain" stated Tom Tjerandsen, managing director at CFFA. "As with other fruits, Chile has invested in getting the word out to consumers, to complement retailer efforts."
Activities this season included media releases not only to the trade, but consumer print and online food editors with easy recipes for enjoying fresh summer citrus. National and regional television and radio interviews with the Love Chef built awareness and provided easy, affordable usage ideas to home cooks, CFFA said.